生命教育簡介
循道中學自創校以來,一直以實踐德智體群美靈之全人教育為宗旨。我們相信,知識教育固然不可或缺,但幫助學生在情感、人際關係、品格以至屬靈生命上有所成長更為重要。
本校生命教育課程按著學生在成長過程中不同的需要與成長任務、並參考台灣已發展多年的生命教育課程而制定。中一至中六各級均有不同的主題:
中一:自我發現之旅
中二:自我管理
中三:尋找生命的色彩(生涯規劃)
中四:僕人、領導
中五:探索國際及本地的社會議題
中六:精神健康
為配合主題,生命教育組的同工為各級同學設計了各式各樣的班主任課與活動。我們認為,生命教育不可能是單向的,也不可能只局限於課室內進行,同學們要有親身的經歷與體會才能有所成長,要通過與別人、與大自然互動才能更深刻明白生命的目標與意義。因著這個信念,在我校生命教育課程裏,每級都安排了大小不同的體驗活動。例如中一的成長禮、歷奇訓練營,中二的紀律訓練營,中三的模擬工作體驗,中四有成長禮(洗腳禮),中五有減壓營、而中六則有惜別禮。

除了以上各種幫助同學自我成長的活動以外,我們也希望同學透過服務他人以學會謙遜和關愛。我們每年均聯同社福機構,為各級同學安排義工服務,如探訪老人院、兒童院及獨居長者等。此外,我們亦組織了義工服務隊,推動同學參與不同的義工服務活動。除了本地義工服務外,我們每年也會舉辦到內地或海外的義工服務團,讓同學放眼世界、培養更廣闊的胸襟。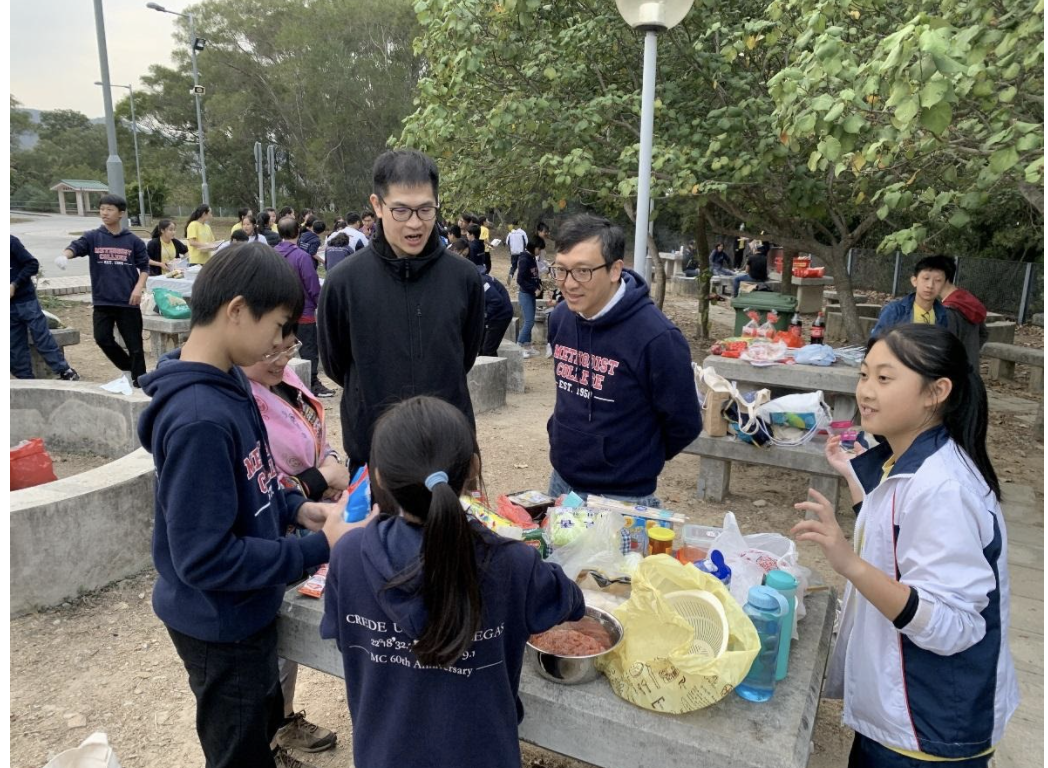 中二生命教育營:同學正在預備「原野烹飪」
中二生命教育營:師生合照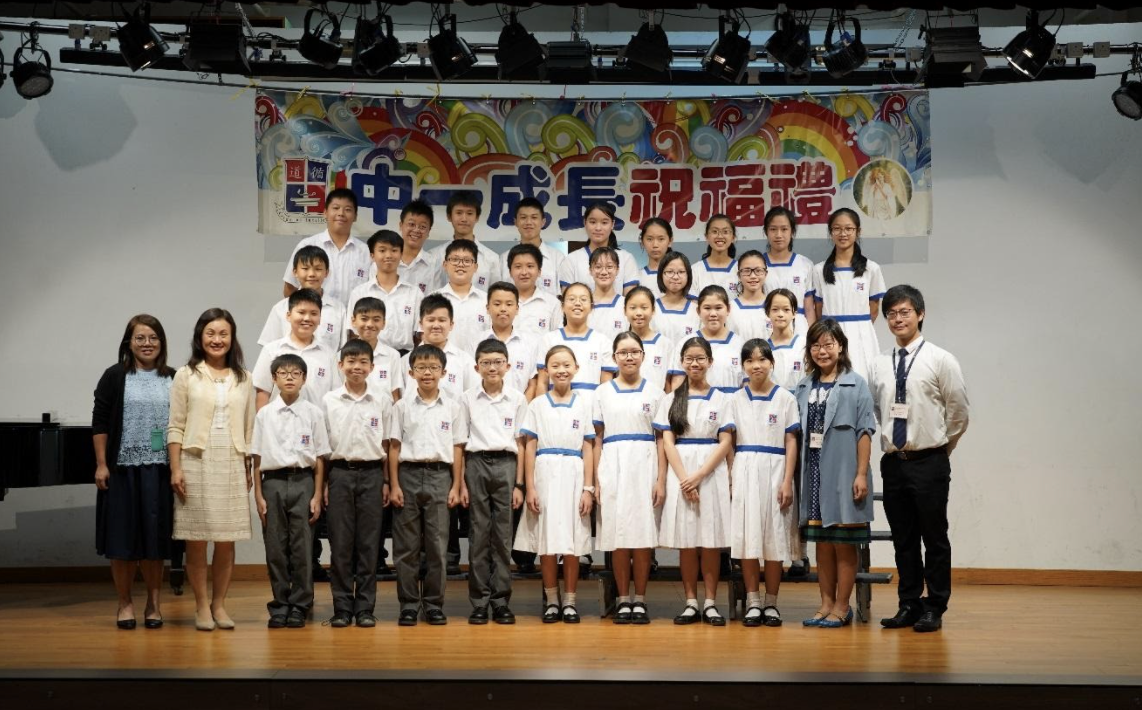 中一成長禮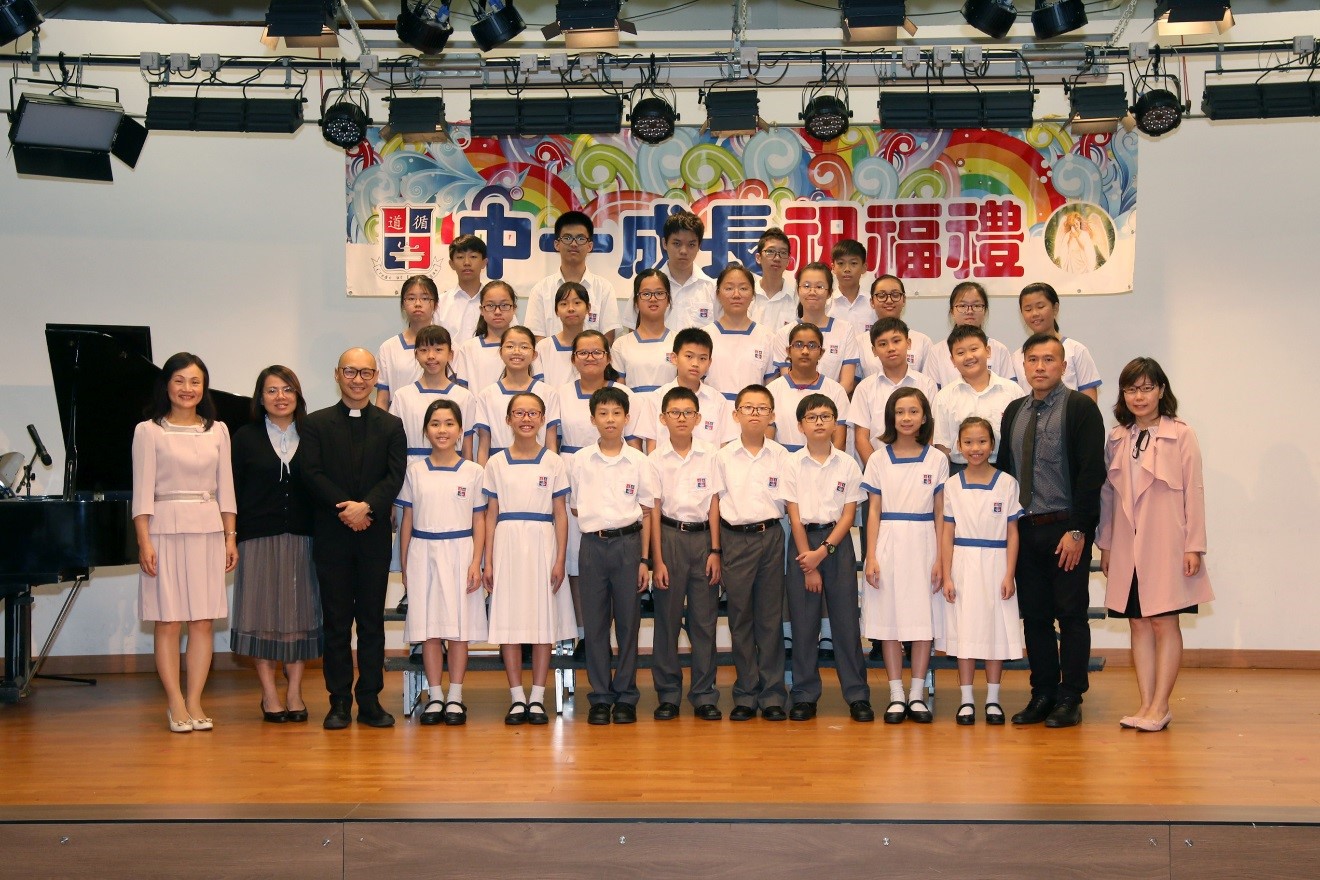 F1 Growth Celebration Ceremony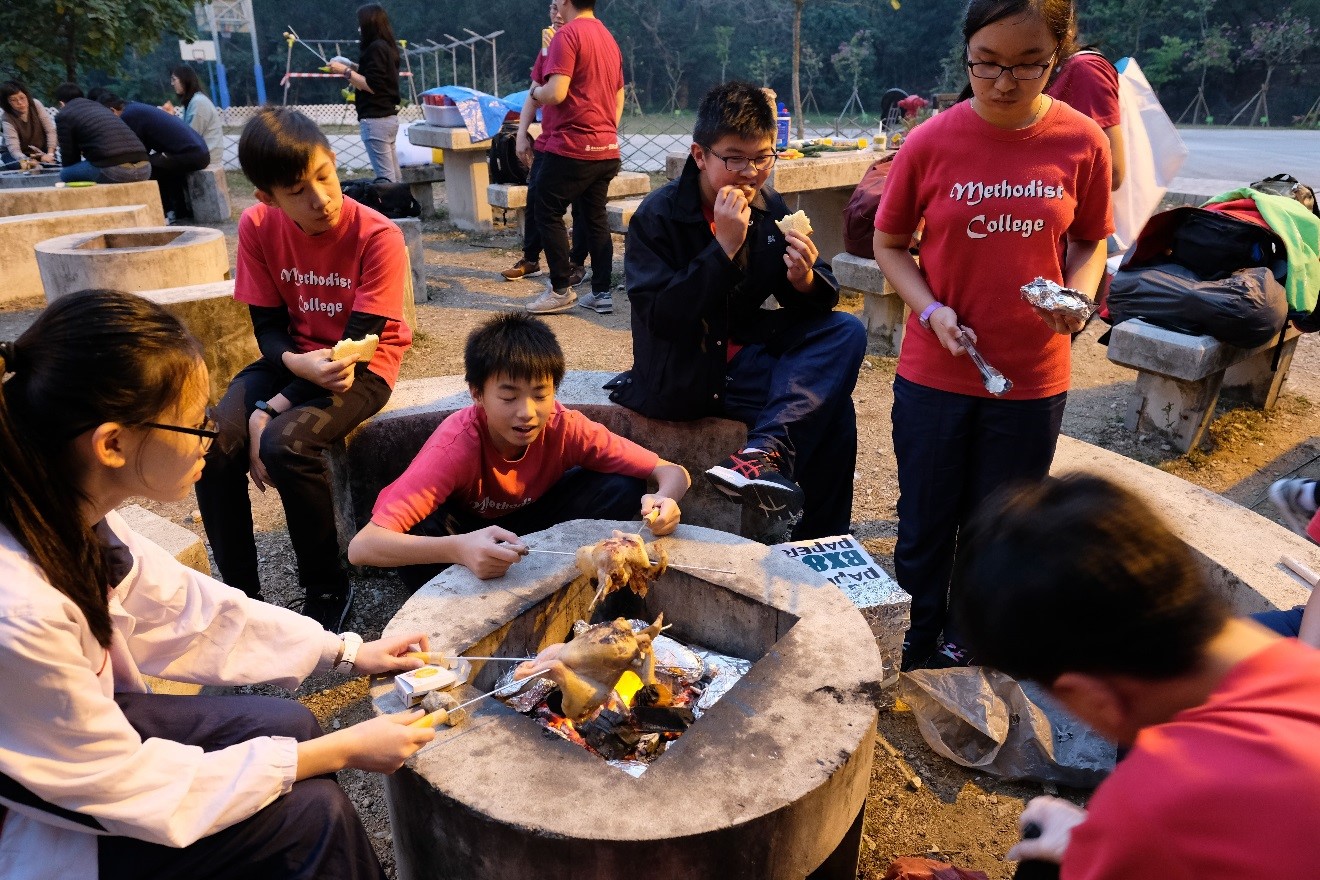 Students cooked together in F2 Life Education Camp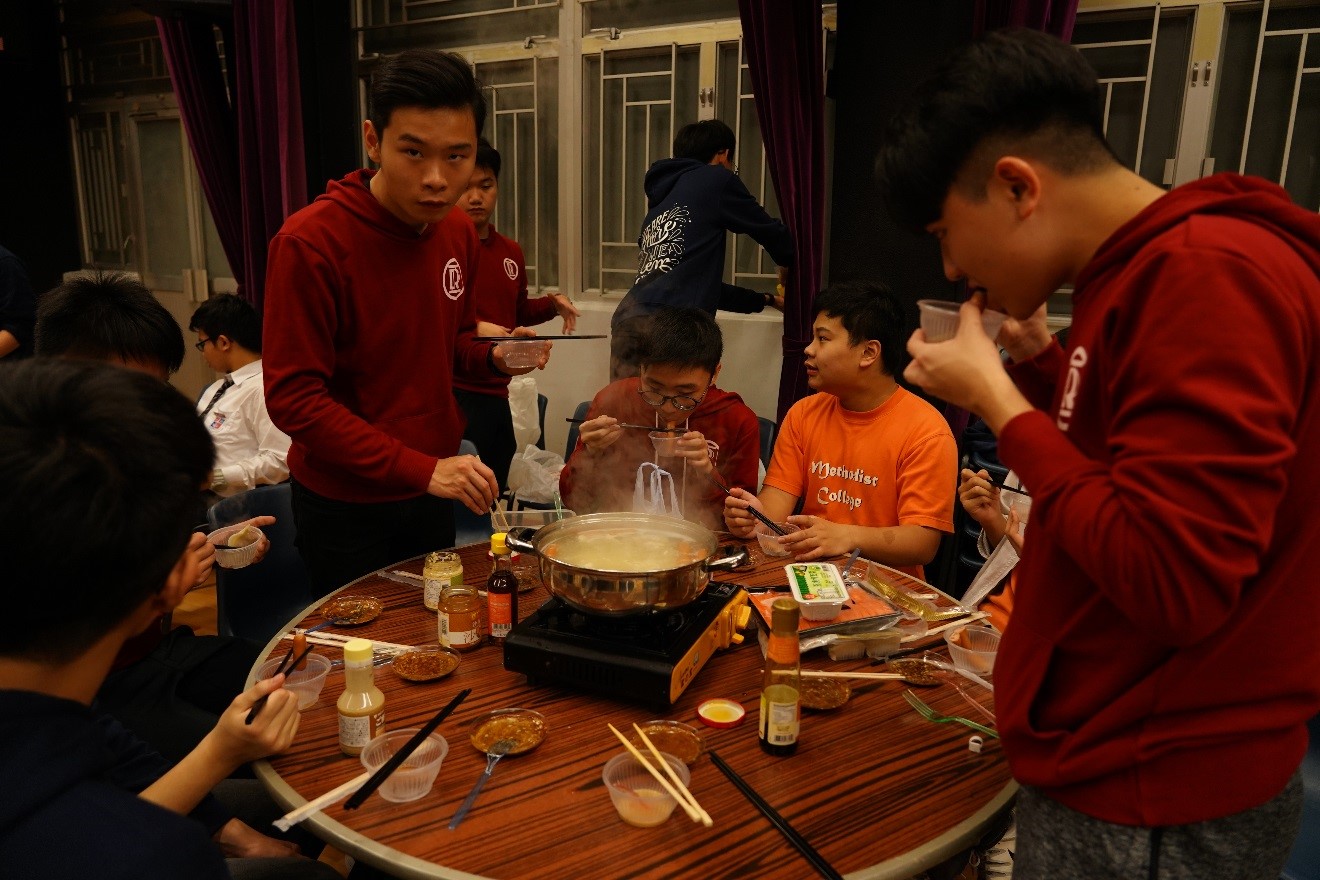 Students were enjoying hot pot with classmates in F5 overnight camp.
We aim to develop whole-person education, based on Christian principles, and to nurture a wholesome life through the preaching of the Gospel. We help our students find the value of life in God. God created us and sees our value, which is not based on academic performance, popularity, power or ability, but exists solely because of God.
Despite the pandemic, we treasured the time we prayed and worshipped together, through morning prayer meetings, prayer time during each form's morning line-up session and assemblies. We learnt to love one another in SCF, the F.1 Alpha Course and at different camps. We preached the gospel in assemblies and Evangelistic Week. We believe students can grow to maturity through intellectual and whole-person development, just as the Bible says: "We proclaim God by instructing and teaching all the people with all wisdom so that we may present every person mature in Christ" (Col 1:28).
Morning Prayer Meetings on Wednesdays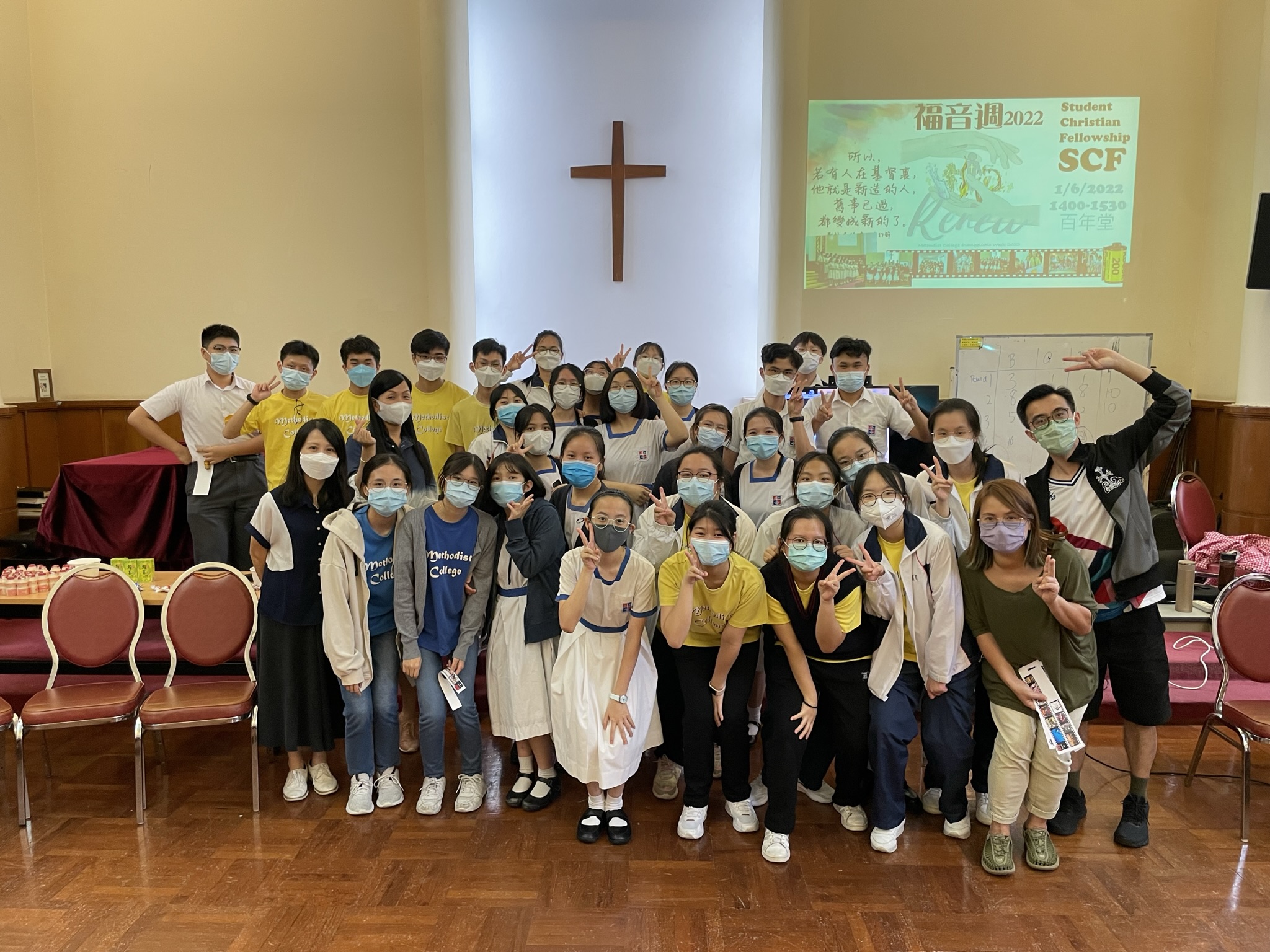 Student Christian Fellowship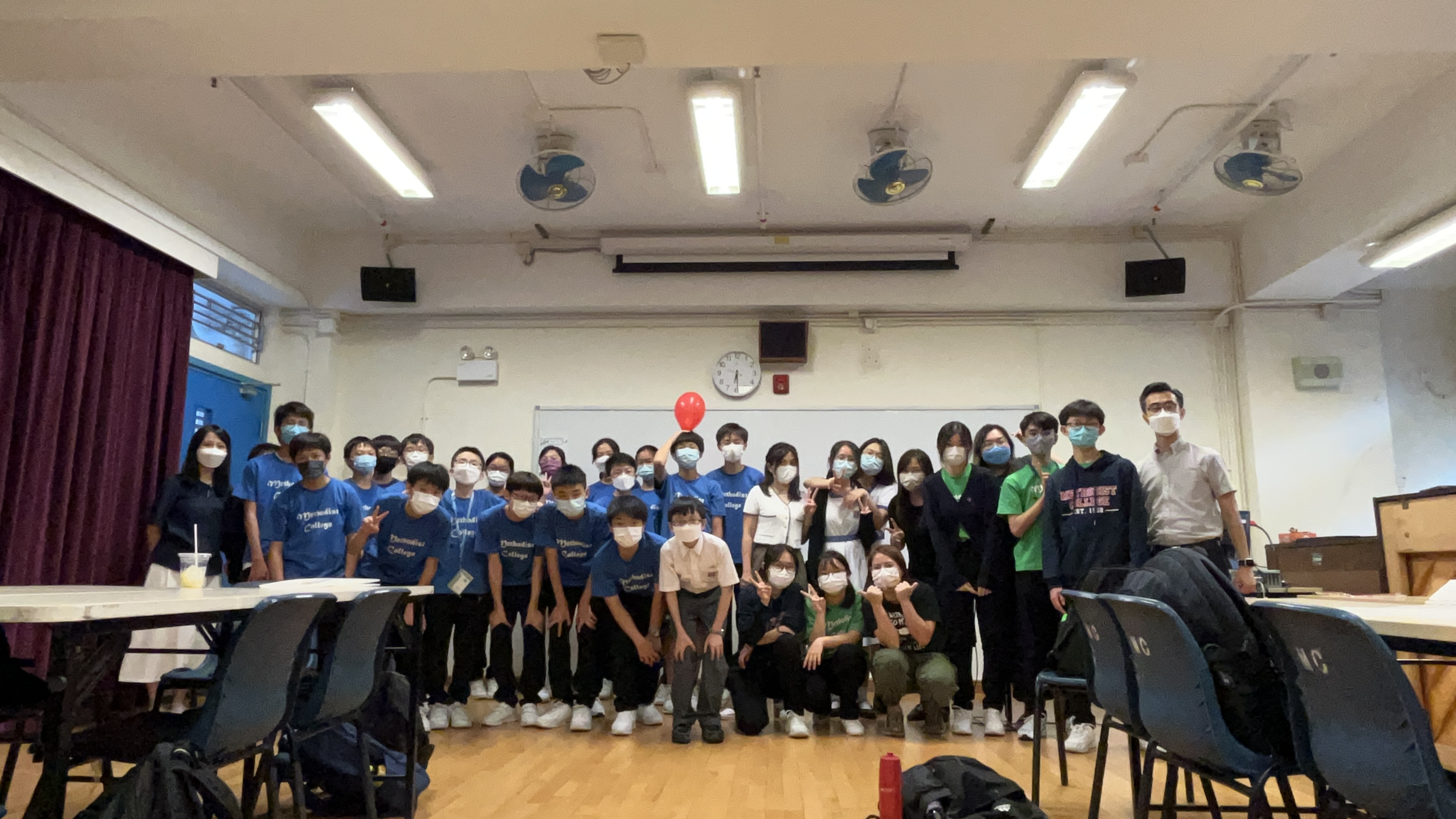 alpha activities
Regular Religious Activities in 2022-2023
| | | | |
| --- | --- | --- | --- |
| | Date | Time | Venue |
| Morning Prayer Meeting | Wednesdays (A3, B3) | 07:35-07:55 | Tuck Shop |
| Student Christian Fellowship (SCF) | Fridays (B5) | 14:15-15:30 | Church 203 |
| F.1 Alpha Course | Wednesdays (A3) | 14:15-15:30 | Church |
Evangelistic Week: 8/5-12/5/2023
Flag Raising Ceremony by Flag Raising Team
The Big Brothers and Big Sisters Scheme is co-organized by Methodist College and Yang Memorial Methodist Social Service. It serves to nurture senior form students to be caring leaders and to help S1 students to adjust to secondary school life at the same time.
Every year, a group of senior form students are trained to be big brothers and big sisters. Not only does the Scheme bring out the talents of senior form students, it also develops their potential and enhances their self-confidence.
In the scheme, the senior form students act as servant leaders to serve their 'brothers and sisters' at school. We believe that our S1 students, who have experienced the love and care of the senior students, will pass the spirit on and become big brothers and sisters for the future freshers.
師兄師姐訓練營:培養群體合作精神

中一迎新活動日




「健康SUN動力」- 祝福生命 - 健康校園計劃
| | |
| --- | --- |
| 循道中學在本學年參加禁毒基金批款推行的「健康校園計劃」,此計劃為期三年,重點在幫助學生發展健康的生活習慣、建立正面的人生觀與價值觀、學習實用的生活技能及抗拒誘惑的技巧等。 | |
「健康校園計劃」目標:

1. 提升青少年對毒品及濫用藥物的知識,並於校內推廣「無毒健康校園」的訊息;
2. 關注青少年精神健康及壓力,提供正向及具預防性的活動,避免青少年使用錯誤 的方式處理情緒及壓力;
3. 提供不同的參與機會予青少年發揮所長,並為他們建立正向朋輩組群,減低負面 組群的影響力;
4. 鼓勵家長認識「健康校園計劃」,並為他們提供活動,強化親子關係。

「健康校園計劃」活動時間表:
| | | |
| --- | --- | --- |
| 日期 | 活動 | 參加同學 |
| 2020年 09-10月 | 「正向家庭」家長教室 | 家長 |
| 2021年 11-12月 | 「生命連動」義工服務 | 中一級 |
| 2021年 3月31日 | 生命教育營 | 中二級 |
| 2021年 5月 | 健康校園展覽 | 中一至中三級 |
| | | |