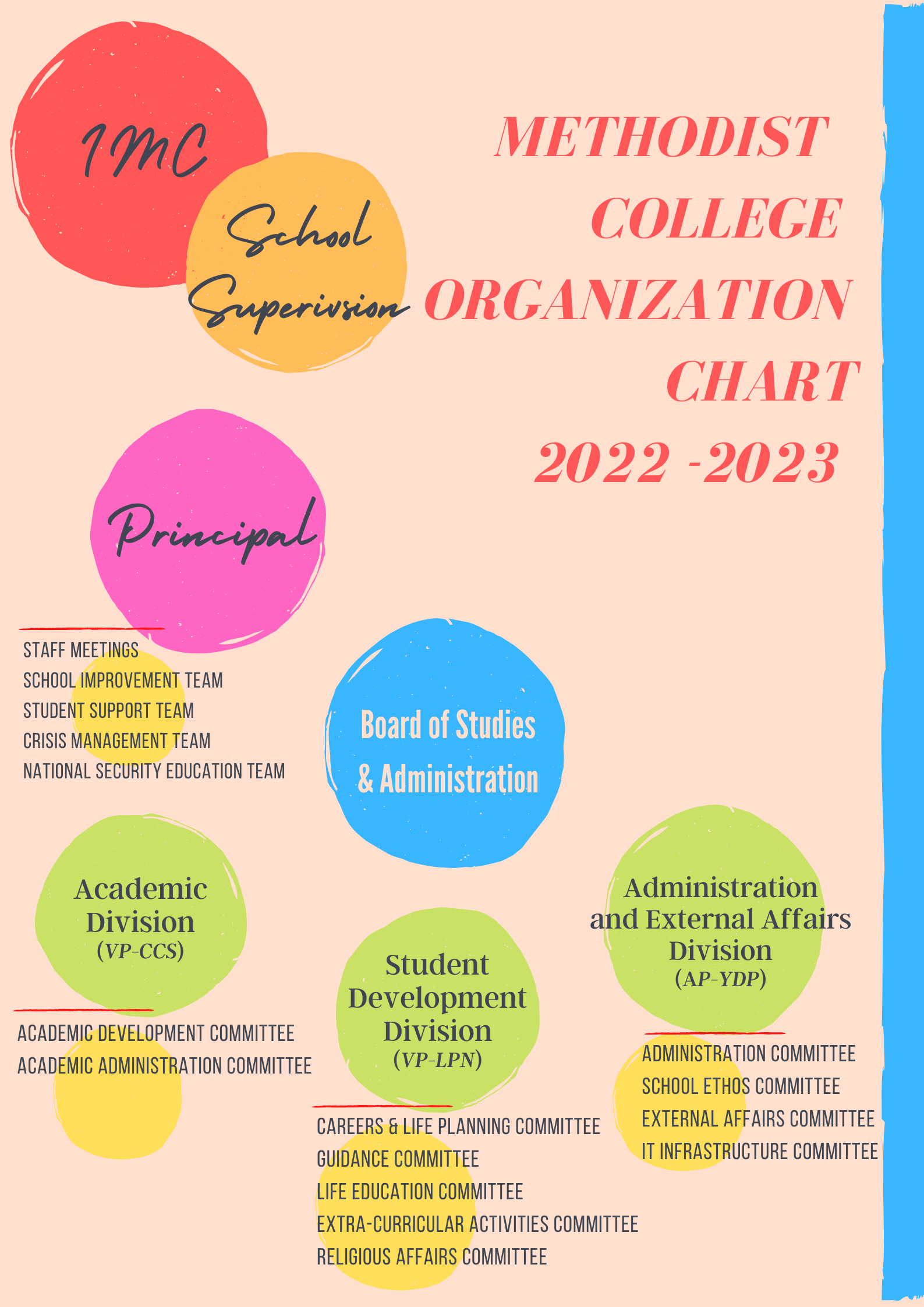 SPONSORING BODY MANAGERS

Dr. CHEN Chung I, Raymond (Chairman & Supervisor)

陳崇一醫生

Rev. HO Wai Yee, Winnie (Chaplain)

何慧儀牧師

Mr. LOK Kam Chong (Hon. Treasurer)

樂錦壯先生

Ms. LEE Shun King

利順琼女士

Rev. LEUNG Chi Kwong

梁慈光牧師

Mr. LEUNG Chi Shun

梁智信先生

Mr. NG Kin Yuen

吳健源先生

Ms. NG Wai Chu

伍蕙珠女士

Mr. WONG Chok Keung

王作強先生

Ms. WONG Kan

王瑾女士

Mr. WONG Tsz Chun, Kevin

黃旨雋先生

Rev. WONG Yuk Chee, Peter

王玉慈牧師

Alternate Sponsoring Body Manager

Ms. LAM Fung Lai, Philip

林豐禮先生

Principal & Hon. Sec.

Ms. WONG Pui Yi, Emily

黃珮儀校長

Teacher Manager

Mr. LI Siu Kei

李兆基老師

Alternate Teacher Manager

Mr. LAM Pak Nin

林柏年副校長

Parent Manager

Ms. Fung Yin Kwan

馮燕筠女士

Alternate Parent Manager

Ms. Wan Chung Yan

温頌恩女士

Alumni Managers (Dec 2022 - Dec 2023)

Mr. YAN Kwing Hung

甄烱雄先生

Ms. LAM Tsz Kwan

林芷筠女士

Ms. POON Man Ching, Athena

潘敏清女士

Independent Managers

Mr. CHAN Yue Chun

陳宇俊先生

Dr. WONG Stephen Ka Hon

黃家漢醫生

Consultants

Rev. YU Yan Ming (Head of School Education Division, MCHK)

余恩明牧師

Rev. KAN Kei Piu (Deputy Head of School Education Division, MCHK)

簡祺標牧師

Rev. LAM Chun, Tim (President of MCHK)

林津牧師

Ms. CHAN Shuk Ying (IMC-appointed)

陳淑英校長

Mr. SUNG Sai Ping (IMC-appointed)

宋世平先生
Staff List | Information on Teaching Staff | Staff Development
Staff List Teaching Staff (2022-23)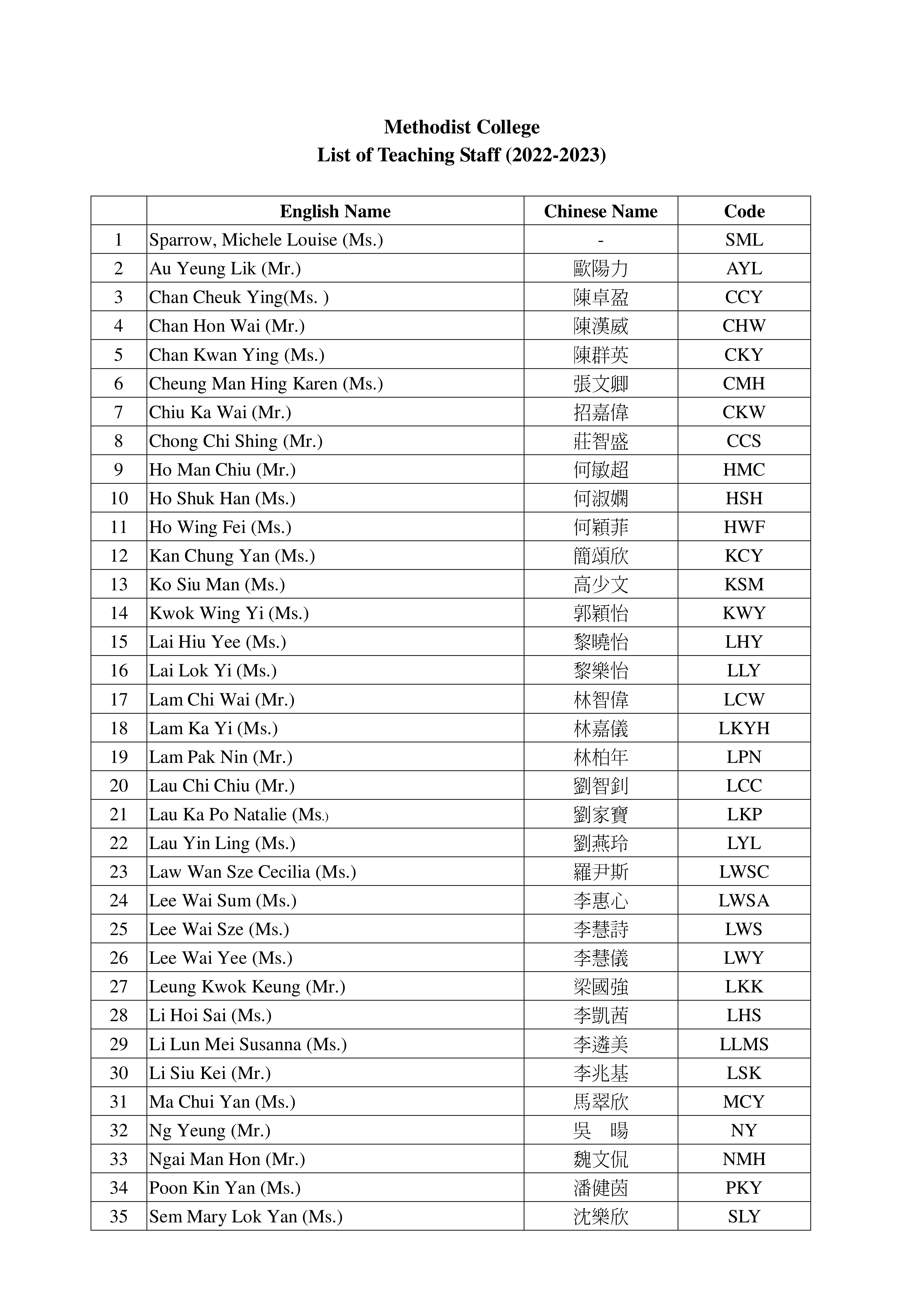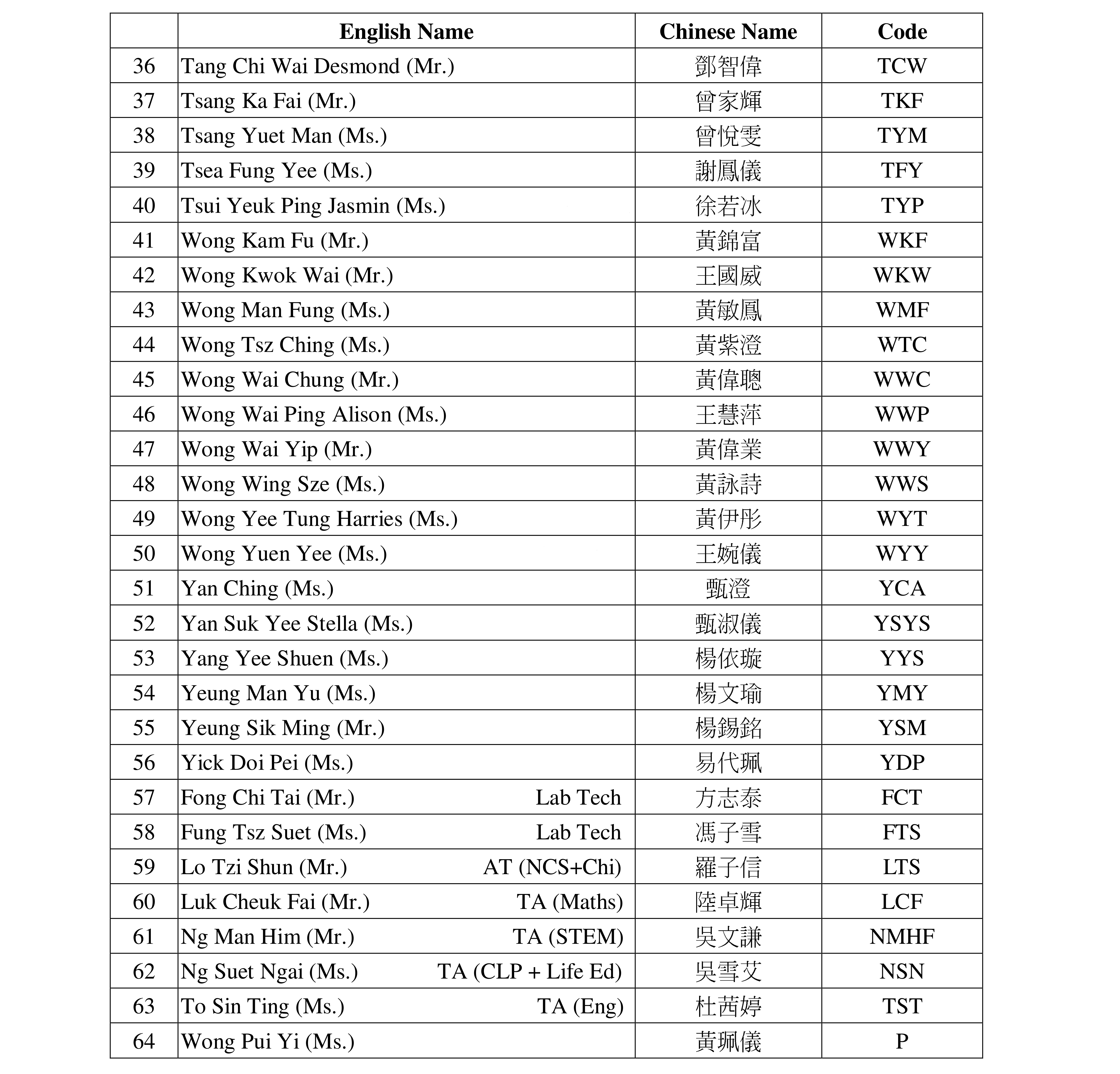 Information on Teaching Staff (2022-23)
The College has a teaching staff of 55 including the Principal. The qualifications and teaching experiences of all teaching staff are as below:
Qualifications
Bachelor Degree: 100%
Teacher Certificate / Diploma in Education: 98%
Master / Doctorate Degree or above: 71%
Special Education Training: 29%
Teaching Experiences
0-4 Years: 7.3%
5-9 Years: 5.4%
10 Years or Above: 87.3%
Staff Development Team
Professional development allows teachers to keep up to date on curriculum development and the latest teaching strategies. Teachers undergo continuous learning can enhance their knowledge, skills and abilities and develop positive values for the benefit of students.
The Staff Development Team strives to provide a supportive environment that inspires the teaching staff to develop to their full potential and to promote teachers' professionalism.
Event Highlights
Orientation and mentoring for new teachers: offer support and guidance to new teachers

Seminars, talks and workshops: invite different speakers for professional sharing to enhance learning and teaching and school effectiveness

Experience sharing sessions: invite teachers to share their valuable experience in teaching

Team building: enable teachers to work well together towards a common goal

Maintain teachers' CPD records and carry out the appraisal exercises